About the Author
Ronald Hardin was born in Kansas City Mo., July 6, 1956, moved to California six years later along with his father, James Everett Hardin and his mother, Violet May Hardin and his two sisters, Sherry Noviello,Vicky Hardin and Brother,Terry Stewart. Ron was born again at the age of 12.

His paternal grandfather, Lige Hardin was a country circuit preacher in Tennessee, accepting offerings in the form of chickens, eggs and meals. His paternal and maternal grandparents were God loving and fearing people with a deep relationship with the Lord. It was this mantle that was passed on to Ron.


In his teenage and young adult years Ron was a gang member, high school dropout and drug and alcohol user. Ron was also in and out of jail quite frequently for various violations of the law. On various occasions during that time supernatural events by God's hand prevented him from death and the execution of evil plots. Overcoming this lifestyle when he re-dedicated his life to the Lord and was baptized in the Holy Spirit Christmas morning 1983.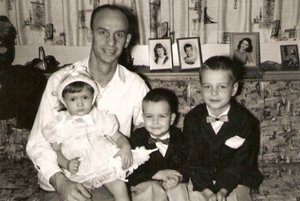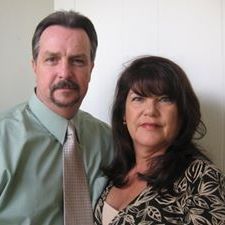 Ron came into his own ministry at the age of 28, where he started writing poems for the Lord in a prophetic form, encouraging, instructing and comforting God's ministers and children.

   Ron's ministry, Prophetic Call, has increased abundantly and mightily over the years. He has written thousands of prophetic words of instruction, correction, and exhortation to ministers, churches, men of position in government and business, as well as countless saints.

   His words are precise, accurate and straight from the Father's heart. This book contains a portion of the poems Ron has written over the years, starting in 1983. These words of instruction, correction, encouragement and comfort all stem from real life experiences in Ron's own walk with the Lord. He has been through every experience that he writes about with the exception of a few, which God gives him prophetic insight.

  
   As you read, your heart will know that the writer has experienced each situation. God's Mail is written from the heart of a believer who has been through the trials and tribulations that he writes about. The words come from the Father's Heart, thus the book being entitled God's Mail.
Ron now resides with his wife Irma in Tustin, CA. His family consists of two boys, Jesse James Hardin and Adrian Othello Minjares ,two girls, Icelle Minjares and Cianna Marie Minjares. Along with five grandchildren, Daisy Lyn, Jesse James Jr., Matthew, Jacob and Luciano.
Ron and Irma are ordained ministers with Pastor Glen Curry, Pillars of Faith, PILLARSOFFAITH.COM.
My Miracles:  "Many of you don't know that on 4/23/2015 I had open heart surgery and double bypass surgery. The arteries were closed at 90%. I was mis-diagnosed for many years with asthma. The surgery went extremely well, it was performed by the chief of staff. Then on 12/30/2015 I had an ICD (defibrillator) placed on the left side of my chest right below my collar bone. I went home the next day, all seemed well except that on 1/2/2016 I had to go to ER. I was in extreme pain and the left side of my chest kept getting bigger and bigger, like a football was stuffed in there. The surgeon who performed the ICD nicked an artery and I had 2 liters of Blood in my chest. On 1/6/2016, I was scheduled for a procedure where they were going to caurterize the nicked artery up thru my groin. Death was possible. I agreed to the surgery.

Heath Hutchinson had texted my husband
Ron Hardin
a word saying God Was going to heal me before the surgery. Ronnie was showing me the text kinda putting the phone to my face, I was on pain meds and really not interested but I remember the text. Meanwhile, Ronnie is insisting that I'm not gonna have the surgery. I said AMEN! Even though I wanted to say different I kept my mouth shut. I told him to text everyone we knew who would really pray. Time to cash in our markers and there were many, I had over 200 saints praying. Pastor
Steve Davis
RoseMary Davis
, Joshua Hallas, the Huffemiers, my beautiful sisters
Anoush Silva,
Sylvia Leandro
who kicked arss to get me transported from Kaiser Anahiem to Kaiser LA, Armida Grijalva, my brother in law Alex Silva, my niece
Charissa Silva
,
Adrian Othello Minjares,
Aida Minjares, who attend The Sanctuary,
Icelle Minjares
, Cianna Minjares, Heath and Sarah Hutchinson, Pastor
Danny Diaz
and his wife Yolanda Diaz, Pastor
Bill Johnson
, Florida,
Cheryl Marcus
, Jerry Caglese and Cole Marcus, Aucencia Cruz,
Ray Cullison Sr.,
Sherri Morphew Cullison
, many many more, if I didn't mention you the Lord knows who you are. The Hutchinson had texted a pic to my husband a drawing of an artery that had a tear and a gold finger extending to touch it. No one except the doctors and myself knew exactly where the cut was and it was like the picture.
  So I have remained calm throughout this entire ordeal except for one time when I got my results of my ejection fraction I knew I was headed for another surgery, I hung up the phone went to my kitchen pantry, cried like a little baby and looked for cookies to make me feel better. Okay this entire time I prayed that if I die Lord I will wake up with you and if I live I live for you so I am not afraid, I trust you Lord. It was time to go into surgery. The Dr. wanted to do an ultra sound first, she waved that dang thing across my chest for what seemed an eternity. I was watching the whole time, I saw a text come on to the screen over the sonogram with the exact words Heath Hutchinson had texted, I thought I was going loopy and too much drugs, I told the other doctor I was dizzy and was going to look away. The 3 doctors went over to a station to look over what they had photographed and looked quite perplexed. They sent me to get an MRI. The technicians kept asking if I was alright because I was extremely calm.

  I closed my eyes, I remember whispering to the Lord, my times are in your hands Lord. As the machine began to swirl I had an open vision. At the top like bookends were Pastor Steve and Rosemary Davis kneeling with their hands folded praying alongside each of them with the rest of the saints I mentioned, I could HEAR them praying in tongues for me. When the procedure was over the nurse came over to me exclaiming "you did it, you healed yourself, I looked at her and said "no I didn't God healed me" she explained that the artery was no longer cut! I began thanking the Lord and saying who am I Lord that you would have mercy on me,I am yours Lord. The doctors were in disbelief and before I left for home I went thru more MRIs. I eventually bled out all the old blood thru a tiny pinhole in the incision which lasted many days. It was a gory mess. I praise God for my husband, family and friends and above all I give God the Glory." - Irma Hardin
Recently, I had issues with my left hand and arm, I was almost moved to fear! I called 
The Sanctuary,
 and asked for prayer from the prayer team.  I went to Kaiser Los Angeles to see my ICD nurse on August 21, 2019, the nurse called for the Doctor on call, he sent me to the hospital (It was hard to shut up and believe God since I've had 2 previous surgeries concerning the ICD) all my ultra sound tests came back with no blockage to my arteries, and the leads to the defibrillator were all connected! I praise God for His Mercy, my husband's unwavering faith (He kept telling me that it will all be well) and for such an awesome prayer team. - Irma Hardin